The Skillet Street Food company was founded in 2007 by Chef Josh Henderson in Seattle, WA. It was originally based out of Airstream trailers (hence, the "street food" part of the company name) that traveled through Seattle, offering unique lunch-time cuisine. These street-traveling trailers still exist today, but the company has expanded greatly; it now offers a restaurant in the heart of Seattle, an online store, products in many stores across the country, as well as catering for a wide range of events (weddings, business meetings, etc).
What I love about this company is the creativity that seems to be placed in every dish or spread. I was drawn to the unique, flavorful products that they offer. Skillet Street Food is American-based, with a chef-inspired addition of special flavors and seasoning. You can tell that Skillet is committed to providing excellent food, with the care and time that goes into each of their products.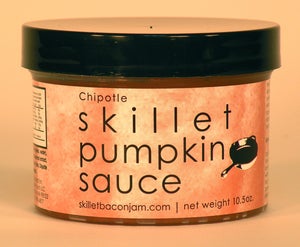 For those of you who do not live in Washington and do not have the pleasure of eating at one of the Skillet Airstream trailers or in the diner (like myself), there are a few great products available for a reasonable price online. They offer Skillet Pumpkin Sauce in three varieties: thai coconut, chipotle, and apple vinegar brown sugar, and the Skillet Bacon Spread in fennel and black pepper and original. One 10.5 oz jar of Skillet spread retails for $8.00 in the
online store
. They also offer a series of variety packs of all flavors, which range in price from $22.50 - $47.50. Once you have one of the spreads, there are many appetizing
recipes
available if you were looking for something new to cook for your next party or event!
I was generously given a sample of the Original Bacon Spread to review for you all. I'll admit -- the concept sounds a bit strange. But lately, Americans seem to have a fascination with all things bacon..and for a good reason! There is something hearty and delicious about the flavor that nothing else can quite compare to. Since I am no gourmet chef myself, I decided /not/ to attempt to cook with the bacon spread, because I wanted to be able to give it an honest review (if it tasted bad, it would likely be due to my cooking skills). Instead, I bought some crackers, and decided to try the most simple taste-test..spread on crackers. It may not
sound
like something you'd be interested in, and it may not
look
particularly appealing when you open the jar, but it's the
taste
that matters!
Here is a little bit about the Bacon Jam from the creators:
we make this bacon spread condiment called bacon jam..you say what?.. that's right, we use niman ranch bacon and render it down along with onions, balsamic and other spices . It cooks for several hours until it is a perfect blend of smoky, tangy, savory and slightly sweet….basically spreadable bacony goodness! USDA approved.
To be honest, I was very pleasantly surprised. It has a rich, strong flavor with a yummy after taste that is great on a basic cracker. It is a perfect mixture of sweet and salty, and reminds me of food cooked on the grill in the summer time. I can see this going over well at any event, in between some cheese and other appetizers. I also think that it would taste good incorporated into breakfast food, or maybe with some baked beans. If you love bacon, I would definitely suggest ordering a jar. Unfortunately, nobody else in my family wanted their pictures taken eating it, but they loved it also! Even my dog wanted in on the testing.
If you have additional inquiries about the Skillet Bacon Spread, you may email the company directly at
eat@skilletstreetfood.com
, or you always visit their
website
to learn more!
I received one or more of the products mentioned above for free using
Tomoson.com
. Regardless, I only recommend products or services I use personally and believe will be good for my readers.