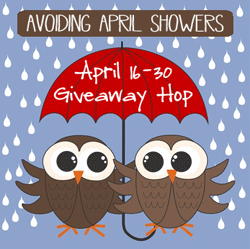 Welcome to the Avoiding April Showers Giveaway Event. This event is hosted by Put A Little Umbrella In Your Drink, My Mommy's World, Taking Time For Mommy and And The Little Ones Too. This event features giveaways with a value of $25 or more at each of the participating blogs! Be sure to visit each blog from the linky below and enter for your chance to win! This event will close on April 30th at 11:59 pm EST. Good Luck!
Here are the prizes that I am offering in my package -- one orange Wet n'Wild Megalast polish (211A Club Havana), one red Wet n'Wild Megalast polish (213B Red Tape), one red Wet n'Wild Lipstick (909D Coral-ine), one pink/brown Wet n' Wild Megaslick Lip gloss (570A Berry Burst), one dark green NYC In a Minute Quick Dry polish (214 Flat Iron Green), one handmade owl headband, and one digital $10 Amazon gift card!! Each of the cosmetics retails for somewhere around $2-$3, and the headband retails for $7. My mom generously donated the Spring-themed headband for this giveaway -- it is a no-slip, no-pain thick band which is perfect for both adults and children.
This giveaway is open to the U.S ONLY, despite the Amazon gift card being delivered electronically. As usual, the only mandatory entry is to like The Second Thought on Facebook -- all others are optional! Please make your entries clear..if you have a notable picture as your GFC icon, please list that to make it easier for verification. List all links and usernames. I will verify all entries, so please don't make false ones, as it just wastes everyone's time! The winner will be notified by email and will have 48 hours to respond before another winner is chosen. This giveaway is open to all readers who are 18+ (younger with parent permission is fine). The $10 Amazon GC will be delivered as a series of numbers once the winner responds in the given time frame. Good luck!
Make sure to hop on over to all of the other blogs participating in the Avoiding April Showers giveaway hop. Remember, each package has a value of at LEAST twenty five dollars, so that means that entering all of the giveaways is well worth your time! The more you enter, the higher your chance of winning once or even multiple times.
Please understand that Put A Little Umbrella In Your Drink, My Mommy's World, Taking Time For Mommy, and And The Little Ones Too along with the other "Avoiding April Showers Event" bloggers are not responsible for sponsors that do not fulfill their prizes. However, we are responsible for contacting our sponsors regarding the winner's prize at the close of the giveaway. We expect that our sponsors will fulfill their prize agreement and ship them to the winners in a timely manner.