BA Star is one of the top-rated companies for the production of makeup and accessories that are great for cheerleading, dancing, competitions, and trendsetters alike. They are based out of Potomac, MD, and offer creative products that can be purchased in bulk as teams or by schools, or even by individuals. BA Star makeup and accessories are great for fund raising, and can be ordered in kits to receive a deal price. Teams can even apply for free samples of BA Star Makeup through their website before purchasing!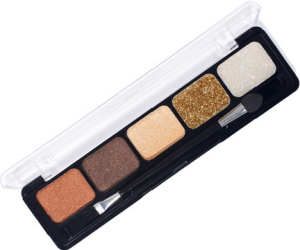 Although I cannot list every single item that BA Star has to offer (there are so many!), here is an overview with a few examples of what you'll find for sale that are not featured in this review:
Glitter Eyeshadows and Glue (Silver Starz, Fire Magenta Glitter, Purple Passion Glitter, Lime Glitter, Turquoise Glitter, Sparkling Orange Glitter, etc)
High Drama Pressed Shadows (Petal Pink Matte, Ice Blue Matte, Diamond Matte, etc)
Mascara, Liners, and Lash Products (Blue Glitter Mascara, Studio Lashes, Sliver Glitter Mascara, Black Liquid Eye Liner, etc.)
Lip Pencils and Gloss (Holiday Red Lip Pencil, Passion Pink Lip Pencil, Zebra Lip Gloss Duo, 2 Piece Natural Lip Kit, etc.)
Cosmetic Bags (Love Collection Train Case, Train Case Red Trim, Pink Barrel Bag, etc.)
Eye Shadow Palettes (Natural Shadow Palette, True Blue Shadow Palette, Makeup 101 Pretty N Pink, etc.)
Blush and Bronzer (Raspberry Blush, Hot Pink Blush, Golden Bronze Bronzer, etc.)
Tools/Makeup Accessories (Cleansing Wipes Aloe, Long Handle Shadow Brush, Reusable Shopping Tote, etc.)
Headbands (Orange Glitter Head Band, Flame Red and Gold Glitter Head Band, Lime Glitter Head Band, 4 Row Crystal Head Band, 2 Row Crystal Head Band)
Glitter Stickers (Silver and Purple Glitter, Zebra and Red Glitter, Silver and Black Glitter, Hot Pink and Black Glitter, etc.)
Crystal Lanyards, Wristlets, and Luggage Tags (Red Crystal Wristlet, Clear Crystal Bag Tag, Royal Blue Bag Tag, Black Crystal Lanyard, Columbia Blue Crystal Lanyard, etc.)



I was lucky enough to receive a BA Star Stardust Eye Shadow in shade Chocolate, as well as one of BA Star's Glue-Liquid Base for a foundation. These eye shadows retail for just $8.75 on BA Star's website. The Glue-Liquid Base retails for $8.75 as well. As you all know, I am a huge makeup fanatic, so I jumped at the chance to review BA Star's products. I had never heard of their company before, so I was eager to try the sultry looking shadow.
Although BA Star offers nearly every type of eye shadow you could want, from glitter to matte to pressed, the Stardust Eye Shadows are loose, mineral-type shadows with a soft shimmer. They come in a .5 oz container and have plenty for many uses (a little goes a long way!). If you order six or more Stardust Eye Shadows, they become just $5.00 each. The other shades that you can purchase include: Bronze Star Dust, Diamond Star Dust, Apricot Star Dust, Petal Pink Star Dust, Lavender Star Dust, Deep Plum Star Dust, Gold Star Dust, and Steel Star Dust. The Chocolate Star Dust eye shadow contains the following ingredients: Mica, Titanium Dioxide, FD&C Red No. 40, Red Iron Oxide, FD&C Yellow No. 5, Ultramarine Blue, Black Iron Oxide, and Manganese Violet.
BA Star's Glue-Liquid Base boasts an all day hold and is great under eye shadow or glitter. You simply apply it with the wand when you unscrew it, in a nice and even, thin coat across your eyelids or wherever you intend to put eye shadow or glitter. It is sweat resistant and comes in a 1.5 fl oz. container. If you order six or more, the Glue-Liquid Base can be purchased for just $5.00 each! The Glue-Liquid Base contains the following ingredients: Water, Magnesium Aluminum Silicae, Acrylates/Octylacrylamide copolymer, PVP-K90, Xanthan-GUM, Triethanolamine, Stearic Acid, PEG-75 Lanolin, Bees Wax, Polyethylene, Synthetic Carnauba Wax, Synthetic Candelilla Wax, Dimethicone, Ethylparaben, Methylparaben, Propylparaben, Phenoxyethanol, and Butylparaben.
I applied the BA Star Glue-Liquid Base before I applied the eye shadow. I found that the Glue-Liquid Base went on evenly, and only felt slightly sticky or heavy while it was drying. Once it dried, I didn't notice it feeling boggy at all, which is good, because I don't like feeling like I have something weighing down my eyes. It dried relatively quickly. It was nice to have the base, because without the Glue-Liquid Base, I noticed that the Chocolate Stardust Eye Shadow was not as prominent (when I put it on my hand to test it). The Glue-Liquid Base definitely helped the eye shadow stick in place. I was pleasantly surprised with the pigmentation of the Chocolate Stardust eye shadow; I am VERY picky about how well an eye shadow goes on and how deeply pigmented it is. The color was nice; a dark and vibrant chocolate that was true to its name. I liked the texture of the eye shadow as well -- it had a nice even shimmer that was not overly glittery and not too flat. With the Glue-Liquid Base, it only creased a little throughout the day, which is a lot better than most cosmetic brands. My one negative about the Chocolate Stardust Eye Shadow would be its inability to blend as well as I would have liked. Now, that may be because the eye shadow that I was wearing on the inside was a different brand, but I still felt like there was a distinct cut off and I could not get the two colors to come together as I would have liked for the most polished look. If you wear only one color, this would not be a problem (or you could try it with a lighter BA Star color on the inside to see if the blending works better). This also may have been due to the Glue-Liquid Base, since it is so good at keeping the color in place..perhaps the texture was not allowing for me to drag the colors together. I would probably give this eye shadow and base a 4/5 stars. The price is really competitive, and I think that for people who aren't as picky as I am, this is a wonderful company for all of your make-up needs. I would recommend this company to teams who are looking to purchase products in bulk -- I think that BA Star has a nice collection of colors and textures and will really "bling" up your next performance!
In the pictures below, I have Urban Decay eyeshadow, eyeliner, and liquid eyeliner on and I have the BA Star Chocolate Stardust eye shadow on the outside corners of my eyes. I think the color is great with a light/medium skin-tone and darker eyes.
Interested in learning more about BA Star and their products? Check out the links below:
I received one or more of the products mentioned above for free using
Tomoson.com
. Regardless, I only recommend products or services I use personally and believe will be good for my readers.